In his book The Next Level: What Insiders Know About Executive Success, Scott Eblin considers Personal Presence, Team Presence and Organisational Presence as three core traits that great modern leaders portray.
He argues that developing these core traits often requires an executive to drop certain habits and clear the path to concentrate on developing good behaviours
In this last of three articles around increasing executive presence I will consider the impact that Organisational Presence can have on your ability to become a great leader.
Eblin highlights the following areas he feels should be developed by a manger and the areas a great leader should drop in order to thrive on organisational presences: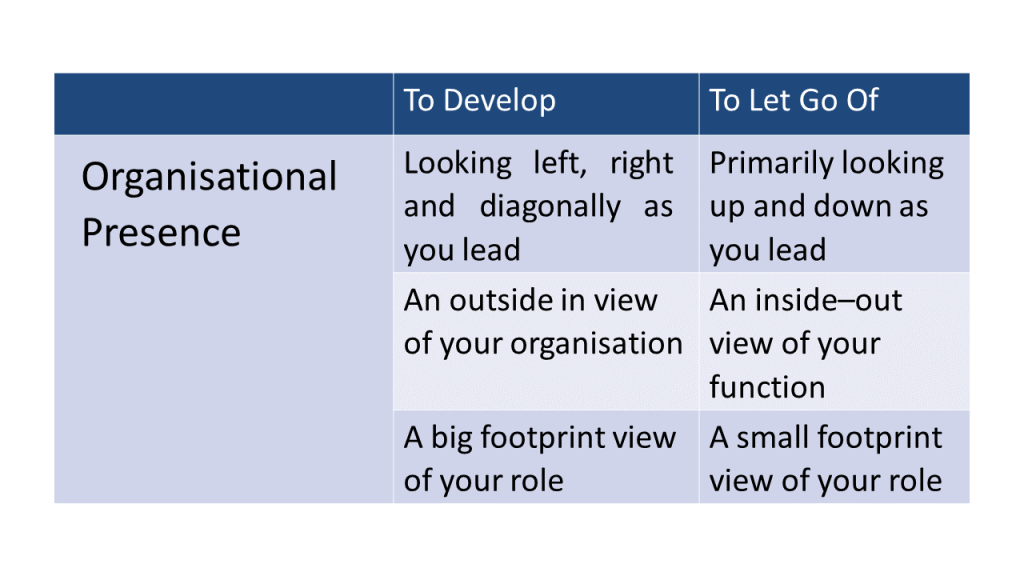 Organisational Presence
Organisational presence is the ability to broaden your field of vision. It is about being able to identify and interact with stakeholders that can have an influence internally and externally on your organisation.
There are a several benefits to developing this ability, firstly, if you are a middle tier manager and looking for your opportunity to progress to the senior leadership team, it can do your career no harm at all to be considered as a dynamic player who regularly contributes to organisational challenges and by doing so are considered future potential. Secondly, by being able to have access to influential stakeholders and having a clear understanding of their respective abilities in any given circumstance, the executive can plan strategically how projects and initiatives can become successful.
I will give a description of how organisational presence works in real situations with an example that included the three core attributes that Eblin suggests an executive should develop by sharing a coaching intervention I was involved with last year.
My client was a successful sales manager sitting in the mid-tier, with a global software company. He is way past the stage of justifying his role as a manager in terms of being the go-to person, indeed he took great delight in developing his team to take responsibility for their actions. He was comfortable with his role being that of creating conditions for his team to prosper.
He had shared his desire to move into a senior leadership role over the coming year to eighteen months and we were actively looking for methods he could employ to ensure he was perceived to be a realistic candidate for senior roles going forward.
In one session he shared with me a challenge that he was facing that was beginning to concern him in terms of his ability to help his team deliver on sales quota which in turn may adversely affect his standing and reputation within the organisation and thus inhibit his ambitions for a senior leadership role.
He described the constant threat of a competitor's product that was gaining momentum in the market place. His team were beginning to regularly report losing opportunities to this competitor and he faced both missing that quarters sales targets and a dwindling motivation from the sales team who were not sure how to react.
Having listened to my client it was apparent that the competitor's product was certainly a threat to his companies offering and he described the advantages of the competitor product over their own. What was also apparent was both my client and his sales teams were beginning to accept that the competitors offer would lead to failure and I saw little energy that convinced me that they would not fail or that they had the energy to change the situation.
The mindset was of pending doom and gloom and I was reminded of Henry Ford's statement: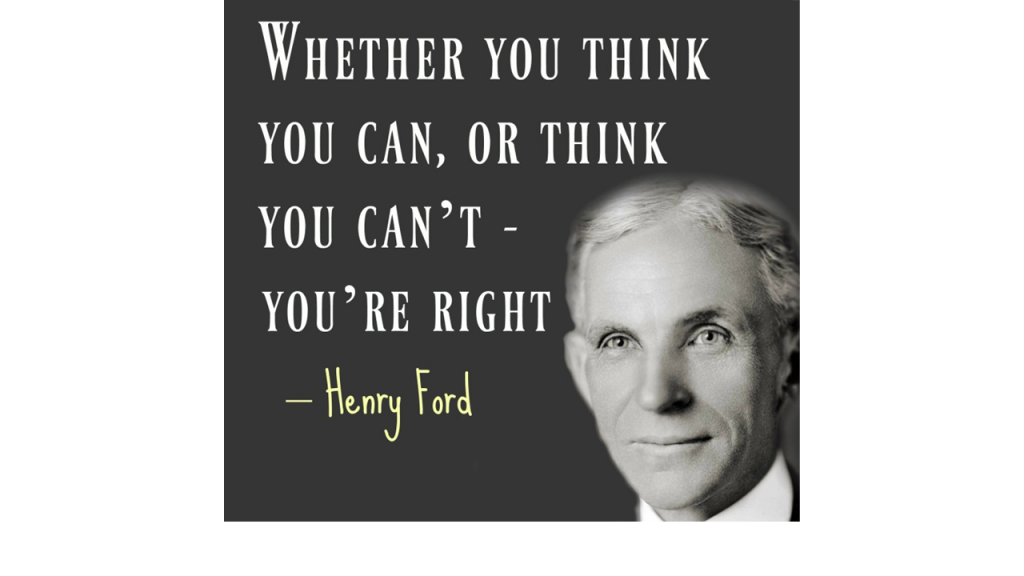 I was also reminded of the concept of being a victim. In his book Conscious Business, Fred Kofman talks about the "victim" and the "player" where a mindset of being a victim will inevitably lead to accepting defeat, where blame and accountability is shifted from you onto others thus making you feel less guilty about failure.
The converse he suggests is to become a player where you assume response-ability and therefore can have an impact. He describes the difference as follows: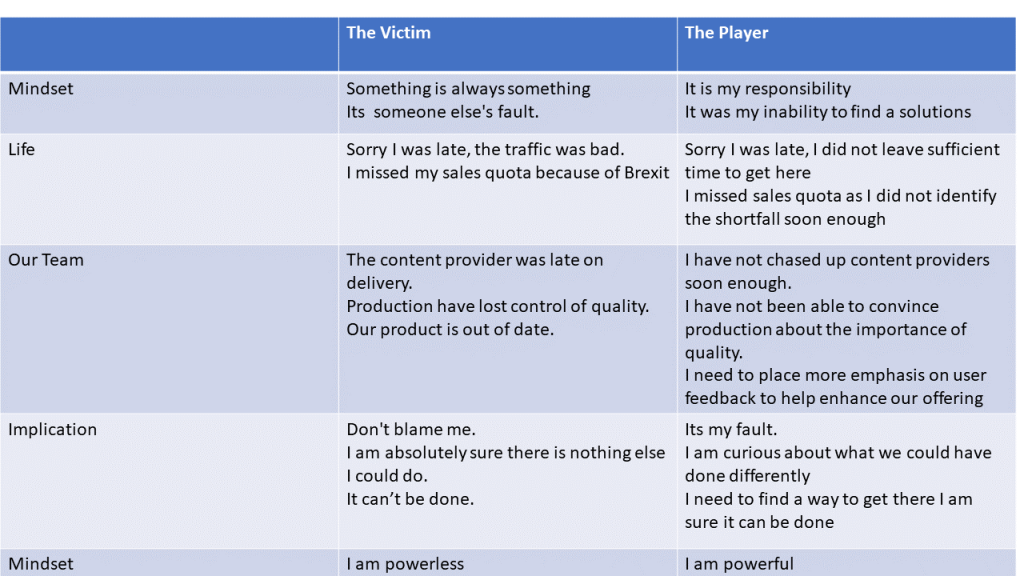 Whilst we can never guarantee success, adopting the role of the player can help us to positively try and do something about our situation. It can certainly stimulate energy and enthusiasm, something that was lacking with my client and his team and this was how we approached my client's plight.
We spent our next session talking about the player / victim scenario and we were able to identify a gap from where my client currently sat and where he would prefer to be. Once my client had acknowledged he should be a player rather than a victim we were able to consider actions he might be able to take to start to "fight back".
The outcome from the intervention was to position my client with some skills and ideas around organisational presence.
To enable him to gain an outside in view of his organisation he needed to get proper feedback from customers and others in the market place about perception of their offering and the perceived ability to deliver, he was also able to get great feedback of current and future user requirements.
He then looked left, right and diagonally within his own organisation and was able to produce a stakeholder map and gauge the level of influence each stakeholder might have when receiving feedback and ideas that could shift the momentum back in their favour.
What these actions delivered has helped put in place projects for improvement by the organisation that are way beyond the direct responsibility of my client's current role however, by going the extra mile he has been able to get noticed by taking the initiative, and incorporating other skills mentioned in personal and team presence we covered in articles one and two.
By taking a big footprint view of his role, he has been able to influence a much-needed shake-up within the wider areas of the business that support the organisations ambitions and aims for growth.
Regarding my client:
Has he stemmed the flow? It is too early to tell.
Has he gained credibility from his peers and senior managers? Absolutely.
Does he feel empowered? Yes, and his team feel motivated and re-energised, knowing that their manager is fighting their corner.
My conclusion.
The NEXT LEVEL MODEL OF LEADERSHIP PRESENCE can certainly support our middle managers to become potential new leaders. It can also support improvement of existing leaders too.
Taking on a new role, increased scope in an existing role, operating in a constantly changing competitive environment – all of these are next level situations for senior managers and are challenges that most organisations management personnel face.
I wonder how well your organisations have defined the task and responsibilities of your executive leaders and whether you have armed them with enough resources to lead your organisations various teams?
Managers can have the single largest impact on your organization. A good (or bad) manager affects employee performance and satisfaction, productivity, efficiency, turnover, and the overall health of any organization. If your company is in business to make a profit, it goes without saying that investing in training is a smart move.
A good manager needs to be able to lead their team, manage their direct reports, be able to interact with wider stakeholders both inside and outside of the organisation which in turn demands fantastic communication skills and the ability to build effective and professional relationships.
The modern manager should be able to take responsibility, step up to the challenge, be agile and be able to manage the stress that will inevitably come with the role. They need to be a professional ambassador for your organisation.
Good management doesn't just happen. They need to be trained and then supported to perform at their best.
Take a look at some ideas we have of supporting these executives
https://spark.adobe.com/page/KDV9wKVqGbj5F/
https://spark.adobe.com/page/KnrKxRUwlrczT/
https://spark.adobe.com/page/tT2mUoEdJoK9V/
For more information on how coaching can support the development of your team contact me on 07970190802